Happy New Year every one! Finally, 2017 has arrived! Last year, it was a topsy turvy ride that I went through. Even though almost every day  I read one or two travel articles or blogs but in the whole year I could only visit two places- Triund and Sariska. All thanks to the cash crunch, office and personal issues! But this year, I am hell bent on making as many trips I can. And of course, like every year I too have made resolutions but yes, they are all related to travel. So here is what I zeroed on and how I am going to stick to them.
 Saving for my Dream Destinations
Image Source: http://cdn4.gurl.com
Let's face the harsh truth that nothing comes for free. Even when you want to travel the whole world you need enough money in your account. The Pyramids of Giza, Iceland and Venice are my dream holiday destinations . And for them I need enough cash. Though I won't  be travelling to any of these places this year but I have decided to save for it from now. Since I am a spendthrift saving money is tough for me. That's why I have already opened a recurring deposit account last month.  I am now tension free as a good amount of money will be accumulated at the end of the year and I can make it to one of the places in 2018.
Shut Myself from the World
Image Source: http://www.mundotkm.com
Emails, phone calls, messages and social media have become an integral part of our lives. And what is sad is that majority of us are hooked into smartphones even when we are on a holiday. Traveling actually is a great way to escape from life's daily grind. So, I have decided to unplug myself from all gadgets and social networking sites during any trip in 2017 as it will help me reconnect with the real world in a better way.  The best way is to leave the phone at home, but I cannot do that since my mom goes paranoid when I travel anywhere, even to office.
Travel Solo
Image Caption: All by myself
Image Source: http://cdn1.theodysseyonline.com
This one is going to be a little tough for me as my family is not ok with solo traveling.  But since the time I have been staying alone and doing things on my own I want to go on a solo trip. I feel it is going to open new experiences for me. Moreover, finding a like-minded travel partner is a tough task so I guess when we really want to go somewhere and there is no one ready to accompany to you it is better to follow Tagore's 'Ekla Cholo re' motto. Solo traveling is a bit risky in India, especially for women. However, there are many solo traveller groups available and one easily can join them. And when it comes to me, I will go on my first solo trip without informing my family. Can't help!
Take more photographs & Write about Your Trip
Image Source: http://i.imgur.com
In 2017, wherever I go, am going to take a lot of photographs. I am not at all a selfie person. To be honest I cannot take one and always end up looking like a fat frog in them. My new phone's camera is decent so let's hope to click and click more pictures. Moreover,  after writing all day for different clients I have forgotten to write for myself. This year I am going to pen down all my travel accounts too.
Come Out from my Comfort Zone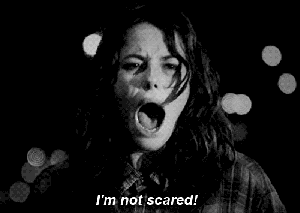 GIF Source: giphy.com
Over the years, I have realized that I need to come out from my comfort zone to experience the world in a better way. Actually, I felt it after coming back from Triund about which I will share later. I want to give up on luxuries while traveling this year. And also, engage in some adventure sports to bid adieu to my fears.
Sticking to the resolutions means making up your mind. I am quite positive this year and hope to travel to some amazing places. Keeping my fingers crossed.